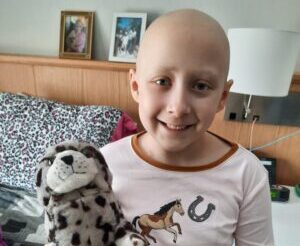 Moments to Cherish
January 27th, 2021
Like many 10-year-olds, Frankie is an energetic kid who loves to dance, swim, ride horses, ice skate and play with her dog. In June 2020, Frankie started complaining about her right cheek hurting and numbness in her mouth. Her parents took her to the doctor thinking she might have a sinus infection. After multiple doctor visits, an X-ray showed a large mass in her right cheek. She underwent a biopsy surgery which determined it was cancer.
She was referred to the American Family Children's Hospital in Madison where they were told it was a rare type of cancer that forms in soft tissue called Alveolar Rhabdomyosarcoma which could not just be taken out. Frankie would need 34 to 66 weeks of chemo and radiation. Frankie and her mom, Jaime, stay at the Ronald McDonald House during the week where Frankie also virtually attends 4th grade. They drive home to Antigo, Wisconsin to see her dad and brother, Evan, on weekends when Frankie is feeling well enough. Because of COVID-19 restrictions, siblings are not currently able to stay at the House. This separation has been hard on the family.
When Frankie realized she would be in Madison during the holidays, she wrote a letter to the Henry Villas Zoo asking if they would be having a holiday light display. Due to the pandemic, the Zoo had canceled the traditional Zoo Lights experience for 2020 but offered a private night to Ronald McDonald House families after receiving Frankie's request. Frankie and her family were able to enjoy a safe, magical night at the zoo!
We are happy to share that Frankie's most recent scans showed that the chemo seems to be working and the mass is getting smaller.
"Thank God for the Ronald McDonald House. It is such a relief knowing we have a nice, safe place to stay next to the hospital. We are so grateful. If I have learned anything, it is not to take anything for granted and cherish every moment with your family," said Jaime, Frankie's mom.